One-Click-Calibration™
One-Click-Calibration™ technology included in the mdesk™ system allows users to scale the image by one click of the mouse.
Read more »
More information
Service & Support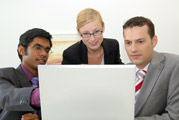 Quality service is one of our organization's core values. With an mdesk™ system you are assured effective service and support devoted to the perfect performance of your mdesk™ system. We offer personalized service and support with dedicated customer service agents assigned to your organization plus web-based alternatives for service, support and software distribution.

In evaluating mdesk we considered user opinions and economics, of course, but also technical function, design, installation, integration with our PACS and IT, and user security/administration. We found that mdesk meets our needs.

The installation and configuration of mdesk early in 2006 went smoothly, and we are seeing more and more of our orthopedic surgeons using it. Both the users and we on the technical side are satisfied with mdesk. We signed a service agreement that includes software upgrades and support, both of which have turned out very well."
Tord Nyberg, Hospital Engineer at Sundsvall Hospital, Sweden

From a technical standpoint, mdesk is simple to install and manage. That makes it easy to have a good overview of the system. It also integrates nicely with our existing digital environment. And RSA Biomedical support staff quickly take care of the few questions that come up."

Rune Garverhaugen, PACS System Manager at Haukeland University Hospital, Norway