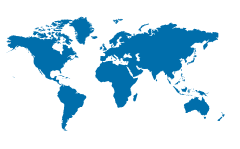 About RSA Biomedical
RSA Biomedical is a world-wide provider of special products and measurement systems in digital medical imaging. Thousands of hospitals, clinicians, medical researchers, and medical device manufacturers in North America, Europe, Australia, and Asia use our high-performance products. We take pride in our innovative contributions to the advancement of quality and knowledge in many specialized fields of health care.
Gold Standard
Our company name, RSA Biomedical, refers to RadioStereometric Analysis (RSA®). We are pioneers and innovators in this specialized area of medicine that enables accurate 3D measurements in vivo. Our UmRSA® system is today's gold standard in clinical trials of new orthopedic implant designs.
Customer Focus
At RSA Biomedical we design and develop products to be practical, reliable, and cost effective. To achieve this, we collaborate closely with respected clinicians and healthcare professionals, leading hospitals, and corporations serving the healthcare industry. Our focus on customer service and efficient business is strong. We have our own international sales organization and form partnerships with leading international suppliers of medical technology. In certain markets we work in partnership with local suppliers of medical technology.
Established
RSA Biomedical was established in 1994 in the city of Umeå, Sweden, home of a well-known and highly respected regional teaching and research hospital. Our head office is still located in Umeå. RSA Biomedical is a privately owned corporation.
Management Team:
Per Grundström, President and CEO
Leif Nyström, Medical Research Systems Development Manager