More information
Improving the Art and Science of Orthopedic Surgery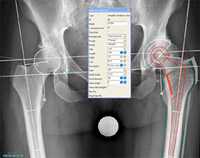 mdesk™ Orthopaedics is a high-performance, cost-effective system that allows you, the orthopedic surgeon, to optimize your skills and maximize the quality and efficiency of surgery. With mdesk™ Orthopaedics, preoperative templating of joint replacement, trauma, and deformity correction surgery becomes easier and more valuable than ever before.
mdesk™ Orthopaedics – sets a new standard in orthopedic preoperative planning and templating
Sophisticated yet easy-to-use – intuitive, fast, effective, and accurate
Optimizes preparation for reconstruction of anatomy – increases patient satisfaction
Integrates effectively with all PACS solutions and maximizes workflow in organizations of any size
All templates for any joint from every major implant manufacturer included
mdesk™ Orthopaedics has evolved into a highly sophisticated yet easy-to-use system thanks to our close collaboration with some of the most highly respected orthopedic clinics and professionals in the global orthopedic community. With over 300 installations worldwide, mdesk™ is the reliable and proven solution orthopedic surgeons have been waiting for.